Steps to Owning a Home in 12 Months or Less November 8, 2018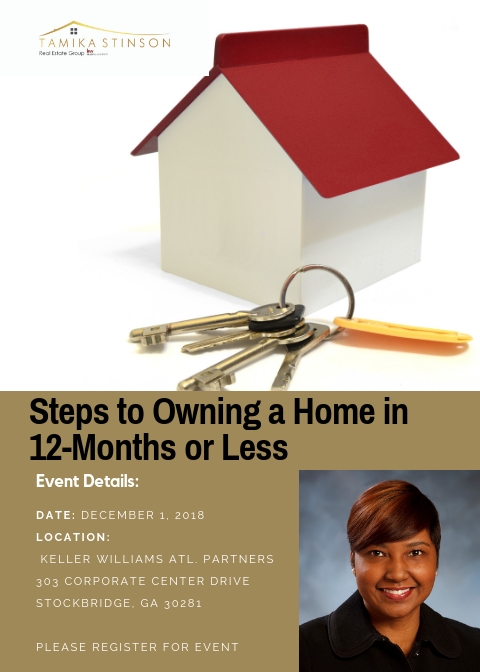 If you're serious about purchasing a home in 2019 and you don't know where to start, let me and my team of experts coaches you into homeownership. Join me and my team on December 1st at Keller Williams in Stockbridge to discuss "Steps to Owning a Home in 12 Months or Less". We will provide one-on-one homeownership guidance to 25 families throughout Metro Atlanta. Our team members will analyze your current financial and credit status; then, create a specialized step-by-step plan of action to get you into a home. We will actively coach to until your home purchase transaction is complete. Click on the link for program application, seminar registration and directions to our office. Space is limited to apply TODAY!
Benefits of the Program:
Access to top-producing real estate and lending professionals.
One-on-one guidance on financial planning and improving credit scores
Credit repair services from industry partners (if needed).
Access to Lease-to-Purchase program if needed).
Periodic meeting with our team members to review your status and determine when you will be ready to make your home purchase.
Daily coaching and support though our Facebook Group.
APPLY NOW